Savuti with nosecone and water tank
Category:
Trailer World Trailers - Off Road
An Economic Solution

In today's economics times, solutions that are efficient and cost effective are essential. This off-road trailer provides the right balance between maximising space utilisation and compact size.

The trailer sports a deeper body than standard trailers, allowing for storage of typical camping equipment inside. Access to the interior is very easy with a rear tailgate and a gas-assisted top lid. A large nosecone is provided, jerry cans are externally mounted, freeing up valuable interior space. Added stability when parked, comes from four extension legs, that neatly tuck away.

A robust steel roof rack adds that extra provision for large and bulky items. This sturdy roof rack easily accommodates an optional two-man tent in a few configurations, and has a table compartment.

This new contemporary trailer is specifically designed for the outdoor enthusiast. It features superb space utilisation getting more into less. This trailer has :

Features

• A deep body of over 500 mm for those larger items.
• Large 14 inch wheels for rough terrain, plus spare wheel
• Four extension legs providing stability on uneven ground
• A robust steel roof rack provides for carrying large items externally
• The trailer is fitted with a large nosecone mounted on the front A-Frame
• Provision to attach a 2-man tent onto the roof rack
• A stainless steel watertank with large tray (1030x825x70) on top
• Two jerry-can containers mounted on the rear sides of the trailer
• A wide rear tailgate for access to the trailer interior
• Independent tailgate can be opened and closed with the trailer lid down
• A gas lift assisted flip-up trailer lid allowing for easy access to the trailer interior, even with the two-man tent attached
• 6 inch adjustable jockey wheel
• 36 inch 8 blade leaf springs
• 8 ring holders for securing luggage inside
• Very sturdy hot dip galvanised coupler
• Strong construction using 30% more steel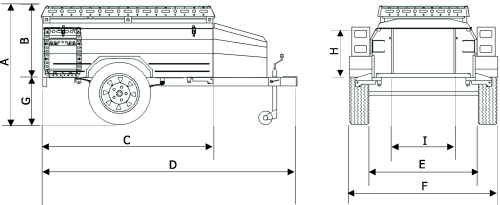 Dimensions
A Height (over all) 1330 mm
B Height (side) 830 mm
C Length (body) 1805 mm
D Length (over all) 2750 mm
E Width (inside) 1135 mm
F Width (over all) 1575 mm
G Ground Clearance 265 mm
I Length (nose-cone) 650 mm

Technical Info
Tare Mass 280 kg
GVM 750 kg
Pay Load 470 kg
Brakes No brakes
Axle Length 1400 mm
Axle Capacity 1250 kg
Leaf Springs 8 Blade 36 inch
Wheels 195x14 inch

Doors
Door (rear - height) 445 mm
Door (rear - width) 685 mm

Subject to our general terms and conditions of supply and delivery. Technical data, pricing, dimensions, and weights are subject to change, due to a policy of continual product development. The illustrations are for reference only. Dimensions are in millimetres. Trailer World reserves the right to alter design and specifications without prior notice.
Trailer World - East Rand
+27 11 826 3119
Trailers - Off Road Brands
Trailer World Trailers - Off Road