NEW Model B Workshop
Category:
Trailer World Trailers - Commercial
This trailer provides a generic storage solution for many types of trades and installation businesses. The basic layout will suit operators who require storage of small and large items.

The bin storage provides a convenient way to store and organise smaller items such as parts and fittings. The Tool storage concept provides a secure and accessible way to store tools.

The internal storage shelf accommodates two optional steel cases that are fitted with 7 off 75x75x52mm, and 14 off 150x75x52mm utility boxes which can contain smaller items which need to be secured during travelling. The remaining interior space can be used for any other items and equipment.

Features

• Small parts in a rack comprising 20 off SB150 230x150x125 Metmeister storage bins.
• Larger items can be stored in a 1100x380x475mm internal storage shelf with 3 shelves
• Tools storage in a compartment behind the left hand flap by means of prongs and spring-clips attached to a perforated panel, comprising:

27 x Single 50mm prongs
3 x Double 75mm prongs
1 x 3-way Plier holder
43 x Super quick fasteners
3 x Clips 6mm
3 x Clips 12mm
1 x 19-Way Socket holder
1 x 9-Way Star and screw driver holder

2 x Optional steel cases fitted with utility boxes 7 off 75x75x52mm, and 14 off 150x75x52mm

• Gas lift-assisted side flaps that are pad-lockable. Side Flaps (height) 410 mm, Side Flaps (width) 1870 mm
• A robust steel roofrack provides for carrying long items and ladders externally
• The trailer is fitted with a pad-lockable secure gas cylinder compartment, for two 5 kg gas cylinders mounted on the front A-Frame
• LED lights
• Height adjustable 8 inch Polyurethane and Polypropylene Jockey wheel with double bearings and 500kg load capacity
• Pad-lockable spare wheel bracket
• 7 off floor-mounted tie-down rings
• Toolboxes and larger pieces of equipment can be stored in the remaining space inside the trailer. (excludes tools)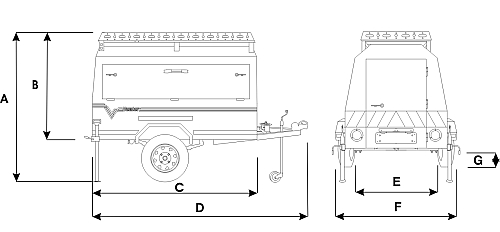 Dimensions
A Height (over all) 1820 mm
B Height (side) 1220 mm
C Length (body) 2125 mm
D Length (over all) 3110 mm
E Width (inside) 1210 mm
F Width (over all) 1675 mm
G Ground Clearance 215 mm

Technical Info
Tare Mass 360 kg
GVM 750 kg
Pay Load 390 kg
Brakes No Brakes
Axle Length 1480 mm
Axle Capacity 1250 kg
Leaf Springs 8 Blade 36 inch
Wheels 165 x13 inch

Doors
Door (rear - height) 970 mm
Door (rear - width) 655 mm

Subject to our general terms and conditions of supply and delivery. Technical data, pricing, dimensions, and weights are subject to change, due to a policy of continual product development. The illustrations are for reference only. Dimensions are in millimetres. Trailer World reserves the right to alter design and specifications without prior notice.


Trailer World - East Rand
+27 11 826 3119
Trailers - Commercial Brands
Trailer World Trailers - Commercial