Motorcar transporter 5 meters
Category:
Trailer World Trailers - Speciality
Perfectly balanced, durable vehicle transporter.


1. Floor constructed from sectionalised 2.0mm zinc galvanized sheet steel.
2. Designed in a U shape for durability and strength.
3. Chassis and A-frame constructed from 76x38x mm rectangular tubing.
4. Tandem axles with independent Rubax suspension.
5. Fitted with override brakes for maximum safety.
6. Auto reverse coupler for easy manoeuvering of trailer.
7. Has 2 removable loading ramps for easy on/off loading, stored on the flatbed floor.
8. Trailer can also be utilised to transport furniture and heavy bulky items.
9. Heavy duty lashing hooks for securing vehicle on floor.
10. Including spare wheel 195x14 inch
11. Multi-function LED lights
12. Flush floor-mounted tie-down ring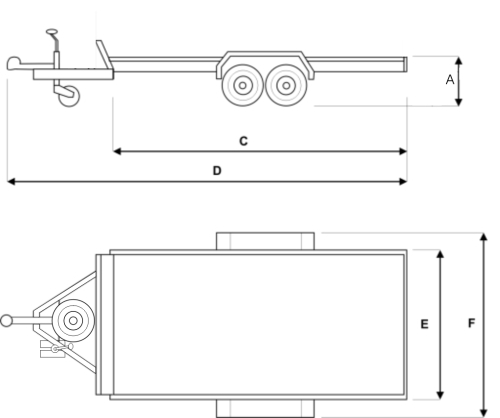 Dimensions
A Height (over all) 660 mm
C Length (inside) 5190 mm
D Length (over all) 6530 mm
E Width (inside) 1900 mm
F Width (over all) 2500 mm

Technical Info
Tare Mass 610 kg
GVM 2350 kg
Pay Load 1740 kg
Brakes Run-in brakes
Axle Length 2295 mm
Axle Capacity 1800 kg x 2
Leaf Springs Rubber Axle
Wheels 195 x 14 inch

Subject to our general terms and conditions of supply and delivery. Technical data, pricing, dimensions, and weights are subject to change, due to a policy of continual product development. The illustrations are for reference only. Dimensions are in millimetres. Trailer World reserves the right to alter design and specifications without prior notice.
Trailer World - East Rand
+27 11 826 3119
Trailers - Speciality Brands
Trailer World Trailers - Speciality