Moonbuggy Super with extension frame and roof rack
Category:
Trailer World Trailers - Luggage
This Moonbuggy Super trailer is equipped with an extension frame as well as a steel roofrack. The additional storage provided is easily handled by this trailer with it's double axles and run-in braking system. The a-frame is reinforced with an additional 10mm steel plate under the heavy-duty coupler.

Constructed from quality corrosion resistant, electro and zinc galvanised sheet steel, the rigid body is both safe and well balanced, maintaining perfect alignment behind the towing vehicle.

Features

• One spare wheel 155 x 13"
• Nosecone
• Extension frame with rear door
• 8 or 6 ring holders to tighten luggage
• Number plate twin light fitting
• Alko coupler
• Long life special axles with larger bearings
• Fitted with a steel roofrack
• The dust and waterproof lid, opens to 70 degrees, and is lockable.
• Fold-down tailgate, aids loading and cleaning, and is even removable.
• Protected tail lights.
• Adjustable new jockey wheel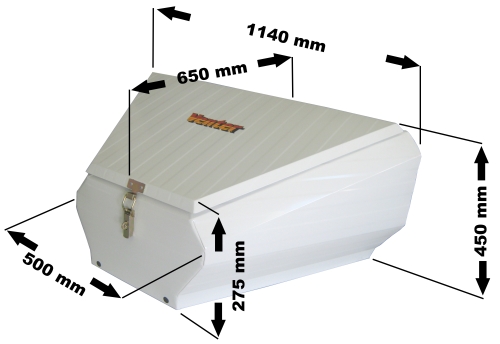 Dimensions
A Height (over all) 1565 mm
B Height (side) 1040 mm
C Length (body) 2060 mm
D Length (over all) 3470 mm
E Width (inside) 1180 mm
F Width (over all) 1570 mm
G Ground Clearance 250 mm
I Length (nose-cone) 620 mm

Technical Info
Tare Mass 320 kg
GVM 1167 kg
Pay Load 847 kg
Brakes Run-in
Axle Length 1405 mm
Axle Capacity 700 kg x 2
Leaf Springs 3 Blade x 4
Wheels 155 x 13 inch

Subject to our general terms and conditions of supply and delivery. Technical data, pricing, dimensions, and weights are subject to change, due to a policy of continual product development. The illustrations are for reference only. Dimensions are in millimetres. Trailer World reserves the right to alter design and specifications without prior notice.
Trailer World - East Rand
+27 11 826 3119
Trailers - Luggage Brands
Trailer World Trailers - Luggage