Model C Workshop 3/4 ton (braked)
Category:
Trailer World Trailers - Commercial
This workshop trailer is robust, easy to tow and has a generous storage capacity. It has a number of distinctive features that make it suitable for various trades and installation industries.

Features

• The sturdily constructed body and floor, (from 0.9mm sheet steel) are corrosion resistant by means of electro-galvanising. (Channels and seams are rust protected with wax).
• Two gas lift-assisted side flaps that are pad-lockable.
• Fold-down side flaps can be used as work surfaces
• Side flaps (height) 410 mm, side flaps (width) 1870 mm
• Multi-function LED lights
• Height adjustable 8 inch Polyurethane and Polypropylene Jockey wheel with double bearings and 500kg load capacity
• Pad-lockable spare wheel bracket
• Optional spare wheel
• 8 off floor-mounted tie-down rings
• Heavy-duty adjustable support legs
• Heavy-duty coupler
• Built-in perforated panel tool rack
• Doors are lockable, dust and waterproof
• Lockable coupler and handbrake chain are fitted
• Including spare wheel 195x14 inch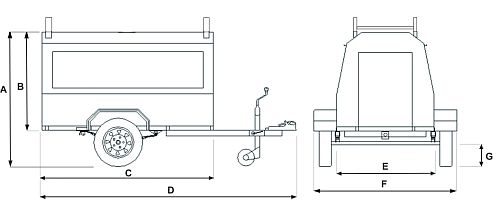 Dimensions
A Height (over all) 1875 mm
B Height (side) 1210 mm
C Length (body) 2125 mm
D Length (over all) 2475 mm
E Width (inside) 1530 mm
F Width (over all) 2000 mm
G Ground Clearance 215 mm

Technical Info
Tare Mass 420 kg
GVM 1100 kg
Pay Load 680 kg
Brakes Run - in
Axle Length 1830 mm
Axle Capacity 1250 kg
Leaf Springs 10 Blade 36 inch
Wheels 195 x14 inch

Doors
Door (rear - height) 970 mm
Door (rear - width) 850 mm

Subject to our general terms and conditions of supply and delivery. Technical data, pricing, dimensions, and weights are subject to change, due to a policy of continual product development. The illustrations are for reference only. Dimensions are in millimetres. Trailer World reserves the right to alter design and specifications without prior notice.
Trailer World - East Rand
+27 11 826 3119
Trailers - Commercial Brands
Trailer World Trailers - Commercial