Model A Workshop 1 ton
Category:
Trailer World Trailers - Commercial
A Spacious Workshop Solution

This trailer is versatile enough for any in-the-field maintenance or construction activity. The spacious interior can easily accommodate many type of equipment and tool storage.

Features:

• A light weight, spacious and yet durable and well balanced trailer.
• The sturdily constructed body and floor, (from 0.9mm sheet steel) are corrosion resistant by means of electro-galvanising. (Channels and seams are rust protected with wax).
• Fold down side doors which can be used as work surfaces.
• Built in toolrack, with perforated panel.
• Doors are lockable, dust and waterproof.
• Lockable 'Auto-reverse'coupler and handbrake.
• Including spare wheel 195x14 inch
• Multi-function LED lights
• Adjustable suport legs
• New Adjustable jockey wheel of polypropylene and polyurethane
• Robust aluminium handle on side flaps
• 7 x floor-mounted tie-down rings for securing items during travel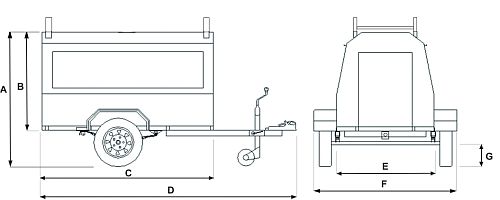 Dimensions
A Height (over all) 2165 mm
B Height (side) 1670 mm
C Length (body) 2400 mm
D Length (over all) 3930 mm
E Width (inside) 1530 mm
F Width (over all) 2050 mm
G Ground Clearance 220 mm

Technical Info
Tare Mass 580 kg
GVM 1600 kg
Pay Load 1020 kg
Brakes Run - in
Axle Length 1830 mm
Axle Capacity 1800 kg
Leaf Springs 12 blade 36 inch
Wheels 195 x 14 inch

Doors
Door (rear - height) 1345 mm
Door (rear - width) 880 mm
Door (side - height) 1275 mm
Door (side - width) 675 mm
Serving Hatch (height) 470 mm
Serving Hatch (width) 2140 mm

Subject to our general terms and conditions of supply and delivery. Technical data, pricing, dimensions, and weights are subject to change, due to a policy of continual product development. The illustrations are for reference only. Dimensions are in millimetres. Trailer World reserves the right to alter design and specifications without prior notice.
Trailer World - East Rand
+27 11 826 3119
Trailers - Commercial Brands
Trailer World Trailers - Commercial