Hunter Offroader
Category:
Trailer World Trailers - Off Road
The Hunter Offroader is a large trailer and comes standard with brakes and heavy-duty coupler. This model with special features is specifically designed for hunters, with a reinforced chassis for heavier loads. This trailer has much to offer, especially with the additional extra features.

Features

• Zinc galvanised coupler 'Sigma Autoreverse type'
• Four pad-lockable jerry can holders
• One heavy duty roof rack with table compartment able to carry a large tent
• Two pad-lockable enclosures (equipment or tool box)
• Two extending supporting back stays and one jockey wheel to provide levelling and stability when parked on uneven ground
• 15 inch 6 stud rims with 215 Trakgrip tyres for rough terrain
• One 215 Trakgrip spare wheel
• Epoxy coated in white, beige or green, manufactured from quality zinc galvanised sheet steel
• Adjustable jockey wheel
• Axle capacity 2500kg
• 2 Gabriel shock absorbers
• 10 blade heavy-duty 50x8 915 mm leaf springs
• Lockable tailgate that serves as a table top, or loading platform
• Multi-function LED lights
• Swing-out spare wheel attachment with maintenance free vesconite bushes
• Large new nosecone with 4 tie-down rings able to house an 80 litre fridge, accessible from the front, with spring assisted flap for access to fridge controls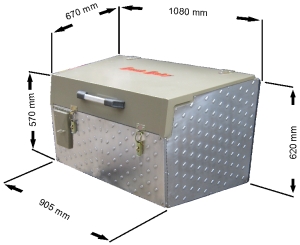 Dimensions
A Height (over all) 1670 mm
B Height (side) 825 mm
C Length (body) 2110 mm
D Length (over all) 3800 mm
E Width (inside) 1140 mm
F Width (over all) 1780 mm
G Ground Clearance 330 mm
I Length (nose-cone) 670 mm

Technical Info
Tare Mass 620 kg
GVM 2250 kg
Pay Load 1480 kg
Brakes Run-in 2365 kg braked
Axle Length 1530 mm
Axle Capacity 2500 kg
Leaf Springs 10 Blade 50x8 915
Wheels 215 x 15 inch Trakgrip

Doors
Door (rear - height) 560 mm
Door (rear - width) 1020 mm

Subject to our general terms and conditions of supply and delivery. Technical data, pricing, dimensions, and weights are subject to change, due to a policy of continual product development. The illustrations are for reference only. Dimensions are in millimetres. Trailer World reserves the right to alter design and specifications without prior notice.
Trailer World - East Rand
+27 11 826 3119
Trailers - Off Road Brands
Trailer World Trailers - Off Road