Horse Box -Royal
Category:
Trailer World Trailers - Bikes
Features

• Front nose sports a new streamlined shape reducing wind resistance
• Improved ramp, fitted with double gaslifts and push-down foot pedal, for easier opening
• Portable LED light, with hook and magnet
• Jerry can holder
• Large lockable rear door fitted above ramp, opening 270 deg
• Robust chassis, A-Frame and floor plates
• Three large windows, middle one protected by a sheet steel screen, two outside windows are fitted with open/close sliding facility
• Two air vents fitted on the roof of the trailer
• Lockable, easily accessible spare wheel holder, fitted on top of modern improved mudguards
• Spare wheel 195 x 14 inch
• Double jockey wheel 200mm dia
• Heavy duty rubber floor mats
• All doors have stainless steel bullet hinges and ramp has padlockable facilities
• Removable rear stable doors
• Alko-Trailco coupler and axles
• Partition between horses of modern designed perforated steel screen, allowing horses to see each other and gain confidence
• Left and right insides of padded vinyl covered panels, fitted with fold-away beds
• Adjustable padded breast bars and rear padded panels to ensure safety of horses in transit
• Front seat with storage compartment
• Body constructed from corrosion resistant rigidised zinc galvanised or
Electro-galvanised steel, prime coated and quality white final paint is applied
• Convenient front door for groom
• Stainless steel tether ring for horses
• Stainless steel structure for foot plates
• The trailer has a design registration No. F2004/0491, since 15 April 2004. Copyright also applies in respect of the trailer.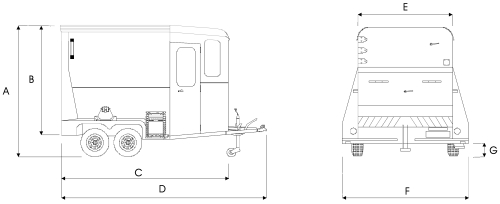 Dimensions
A Height (over all) 2850 mm
B Height (side) 2405 mm
C Length (body) 3825 mm
D Length (over all) 5000 mm
E Width (inside) 1730 mm
F Width (over all) 2365 mm
G Ground Clearance 310 mm

Technical Info
Tare Mass 1240 kg
GVM 3200 kg
Pay Load 1960 kg
Brakes Run-in brakes
Axle Length 2165 mm
Axle Capacity 1800 kg x 2
Leaf Springs Rubber suspension
Wheels 195 x 14 inch

Doors
Ramp (rear - height) 1450 mm
Ramp (rear - width) 1805 mm
Ramp (front - height) 2175 mm
Ramp (front - width) 1060 mm
Door (front - height) 1900 mm
Door (front - width) 650 mm

Subject to our general terms and conditions of supply and delivery. Technical data, pricing, dimensions, and weights are subject to change, due to a policy of continual product development. The illustrations are for reference only. Dimensions are in millimetres. Trailer World reserves the right to alter design and specifications without prior notice.
Trailer World - East Rand
+27 11 826 3119
Trailers - Bikes Brands
Trailer World Trailers - Bikes