Bush Baby unbraked
Category:
Trailer World Trailers - Off Road
The Bushbaby trailer has had steady improvements added over the years, making this a superb off-road trailer, well-suited to harsh outdoor conditions. With addition of the extra features this trailer really shines as an efficient space utilising vehicle. It comes in an unbraked and braked version.

Features

Bushbaby Unbraked With Extended Standard Features

• Rear large draw-out rack
• Side draw-out rack
• Washing table nylon storage rollers
• Lockable water tank filler cap
• Stainless steel washing table mounting brackets
• Coupler "Swivel-type" for the unbraked Bushbaby trailer
• Two pad-lockable jerry can holders
• One heavy duty steel roof rack with table compartment able to carry a large tent
• Two pad-lockable enclosures (equipment or tool box)
• Two extending supporting back stays and one jockey wheel to provide levelling and stability when parked on uneven ground
• 15 inch 6 stud rims with 215 Trakgrip tyres for rough terrain
• One spare wheel
• Epoxy powder-coated, cured at 210 degrees C manufactured from zinc galvanised sheet steel
• 4 ring holders to tighten luggage
• Adjustable jockey wheel for more info click here
• Axle capacity 1500kg
• 2 Gabriel shock absorbers
• 10 blade 36 inch leaf springs
• Pad-lockable tailgate that serves as a table top
• Multi-function LED lights
• Swing-out spare wheel attachment with maintenance free vesconite bushes
• Large new nosecone with 4 tie-down rings able to house an 80 litre fridge, accessible from the front, with spring assisted flap for access to fridge controls.

Optional Equipment

• Quality tent with ladder for two to four adults (tent fitted if bought with trailer)
• Gas stove kitchen unit with spice rack
• Lid Netbag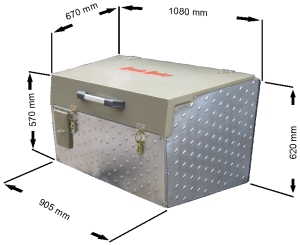 Dimensions
A Height (over all) 1640 mm
B Height (side) 800 mm
C Length (body) 1860 mm
D Length (over all) 3560 mm
E Width (inside) 1100 mm
F Width (over all) 1760 mm
G Ground Clearance 330 mm
I Length (nose-cone) 670 mm

Technical Info
Tare Mass 520 kg
GVM 750 kg
Pay Load 230 kg
Brakes No brakes
Axle Length 1530 mm
Axle Capacity 1500 kg
Leaf Springs 10 Blade 36 inch
Wheels 215 x 15 inch

Doors
Door (rear - height) 560 mm
Door (rear - width) 1020 mm
Door (side - height) 540 mm
Door (side - width) 510 mm

Subject to our general terms and conditions of supply and delivery. Technical data, pricing, dimensions, and weights are subject to change, due to a policy of continual product development. The illustrations are for reference only. Dimensions are in millimetres. Trailer World reserves the right to alter design and specifications without prior notice.
Trailer World - East Rand
+27 11 826 3119
Trailers - Off Road Brands
Trailer World Trailers - Off Road